Heavy Highway & Infrastructure Development in Philadelphia
Meco Constructors, Inc. is proud to be one of the premier heavy highway and infrastructure construction companies in the Delaware Valley.
Offering High-Quality Commercial Concrete Paving Services
Promoting the health, safety and welfare of its citizens is the core mission of our federal, state and local governments. The nation's public works systems provide the framework for the accomplishment of that mission. Meco Constructors, Inc. is proud to be one of the premier heavy highway and infrastructure construction companies in the Delaware Valley area. Meco offers a combination of skilled personnel, a vast equipment inventory, and experience in a multitude of construction disciplines such as:
Earthwork and grading
Concrete and asphalt paving
Sound barrier and retaining wall installation
Water, wastewater and storm water redevelopment
Meco Constructors can provide roads for safe travel, utilities for clean water, parks for recreation, and stormwater management for flood prevention. Since a city or town's reputation can be impacted by the quality of its infrastructure systems, having Meco perform these construction services will insure a positive perception of your state or municipal government.
Superior Commercial Concrete and Asphalt Paving Services
Our expertise in asphalt paving extends throughout the Greater Philadelphia area, providing top-notch solutions for commercial projects. With our exceptional talents, state-of-the-art equipment, and highly skilled paving crews, we ensure the safety and reliability of the city's infrastructure for all citizens.
While there are many companies in Philadelphia that claim to handle paving projects, our experience, knowledge, and commitment to quality service set us apart. With 50 years in the business, we have honed our skills to complete projects on time, within budget, and with the utmost safety. Our contractors and crews receive training on the latest construction technologies, and our CAT equipment fleet is supported by a highly skilled and trained in-house fleet maintenance department. We take our responsibilities seriously and understand the importance of meeting deadlines and staying within budget.
Our qualified concrete and asphalt paving contractors in Philadelphia guarantee results that exceed industry standards, ensuring your project's success.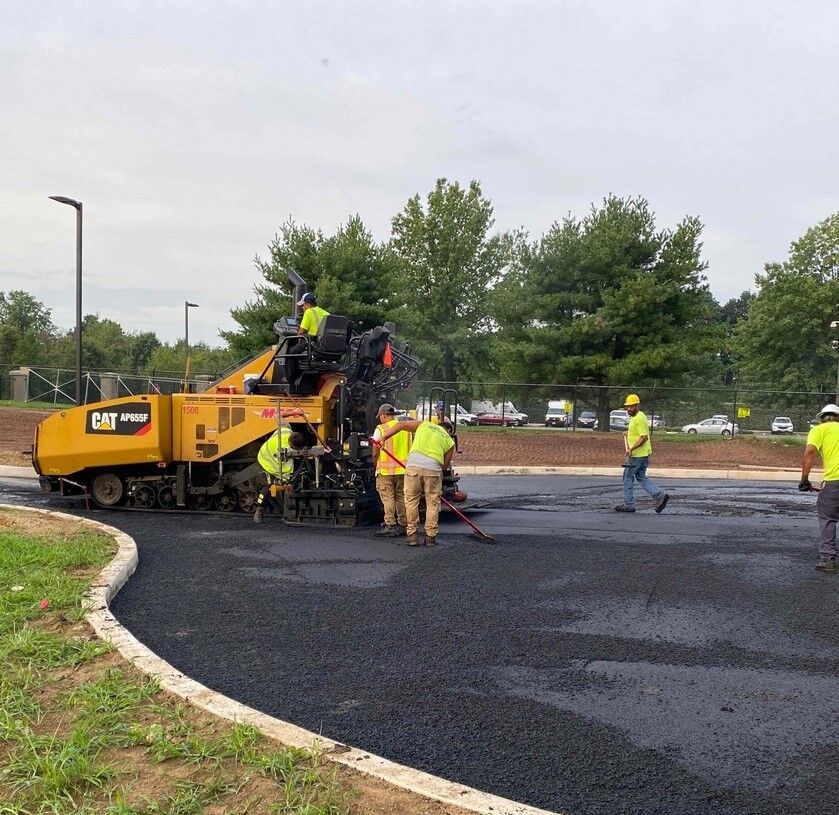 Proudly Serving as Premier Concrete & Asphalt Paving Contractors in the Greater Philadelphia Area
For comprehensive asphalt paving services and highway infrastructure development in New Jersey and Philadelphia, trust Meco Constructors. Our highly skilled tradesmen and women possess the experience and knowledge to handle your project with precision.
We also offer site development services outside of the city, including highway infrastructure development in Bucks County, PA, ensuring the safety and cleanliness of municipalities. Wherever your commercial asphalt paving or concrete construction project is located, you can expect the same outstanding services. With decades of experience, we provide high-quality concrete and asphalt paving services throughout the Tristate area. Contact us today to learn more about how we can assist you!