Demolition in Philadelphia
Meco Constructors, Inc. has a storied history of building and infrastructure demolition to make way for new construction.
Recent Projects in Philadelphia
2222 MARKET STREET
PHILADELPHIA, PA

(Duration – 8 Months. Client – IMC Construction)
SCOPE:
For this particular project, Meco was tasked with the challenge of the demolition of existing buildings on site, bulk excavation, driving of soldier piles and lagging, along with the underpinning of foundations for nearby existing buildings on Philadelphia's Market street. The site also entails water, storm sewer and under drain connections for the proposed 17-story building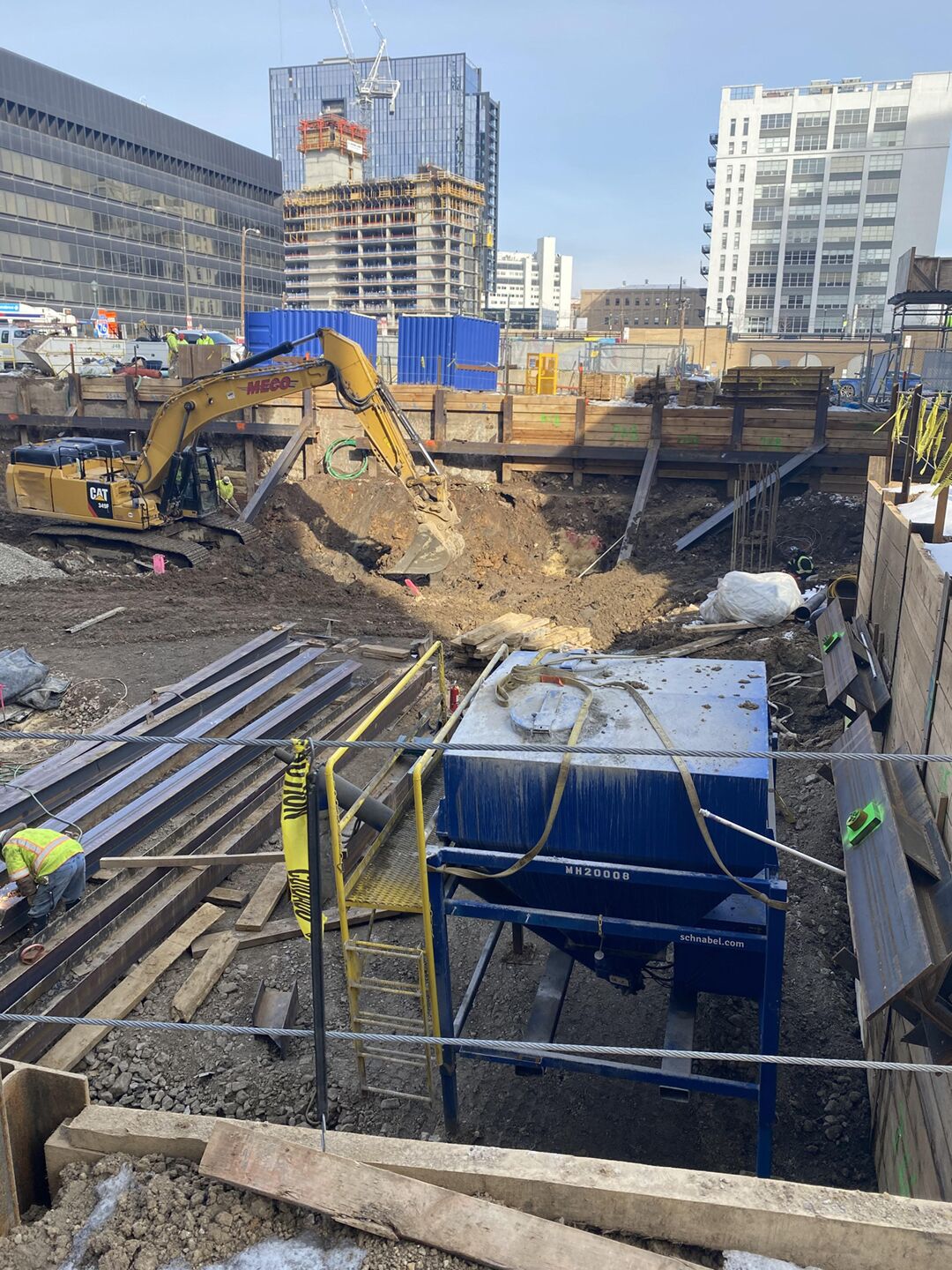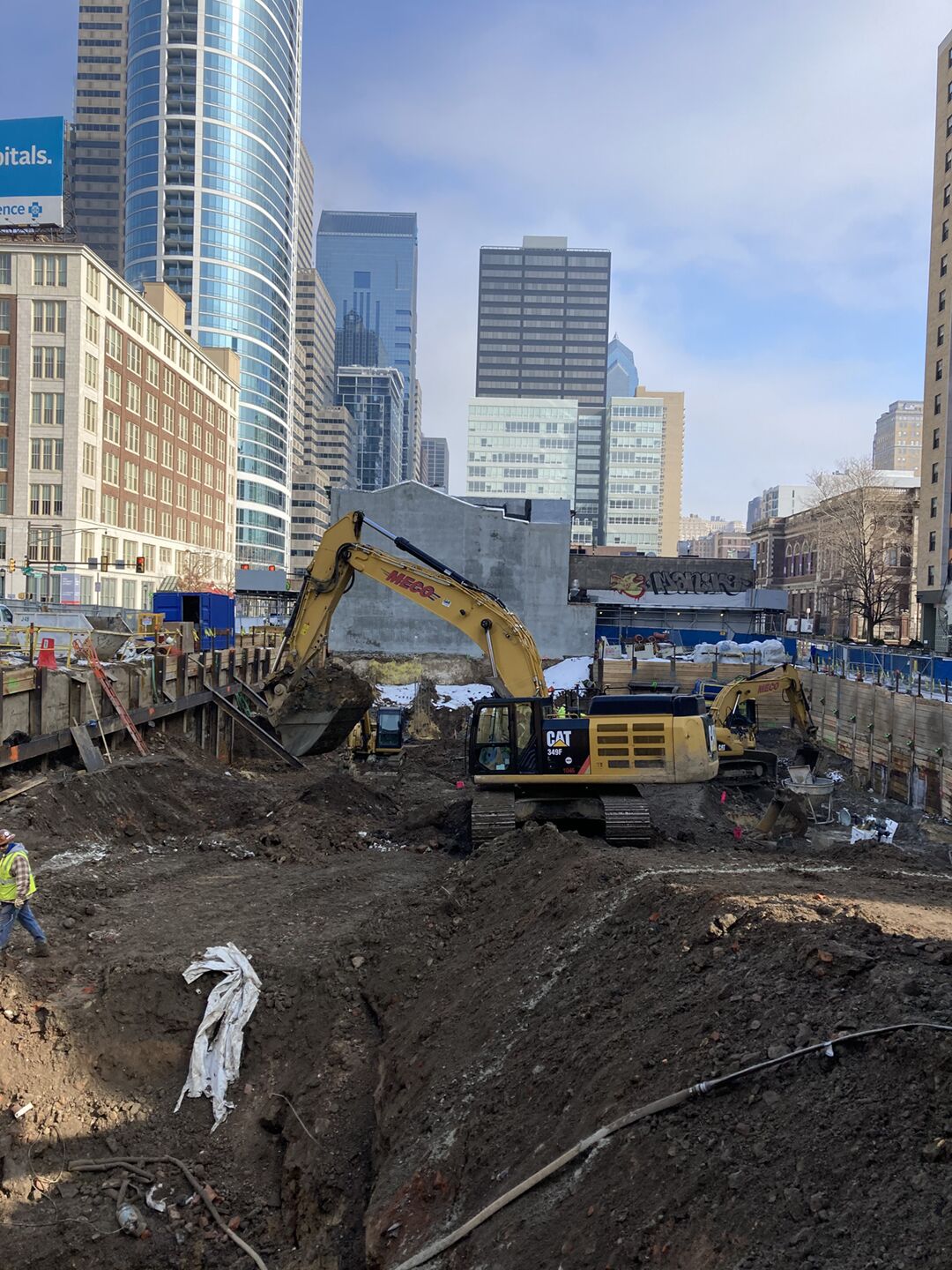 COLUMBUS SQUARE PARK
PHILADELPHIA, PA

(COMPLETION: SPRING, 2021)
SCOPE:
Columbus Square park is a renovation project of an existing park in South Philadelphia that includes the decommissioning, demolition and relocation of multiple storage facilities, the addition of 7,000 LF of storm drainage for baseball and soccer fields with an underground retention basin, a new concrete spray park and a turf dog park.
The total contract value approximates $2,500,000.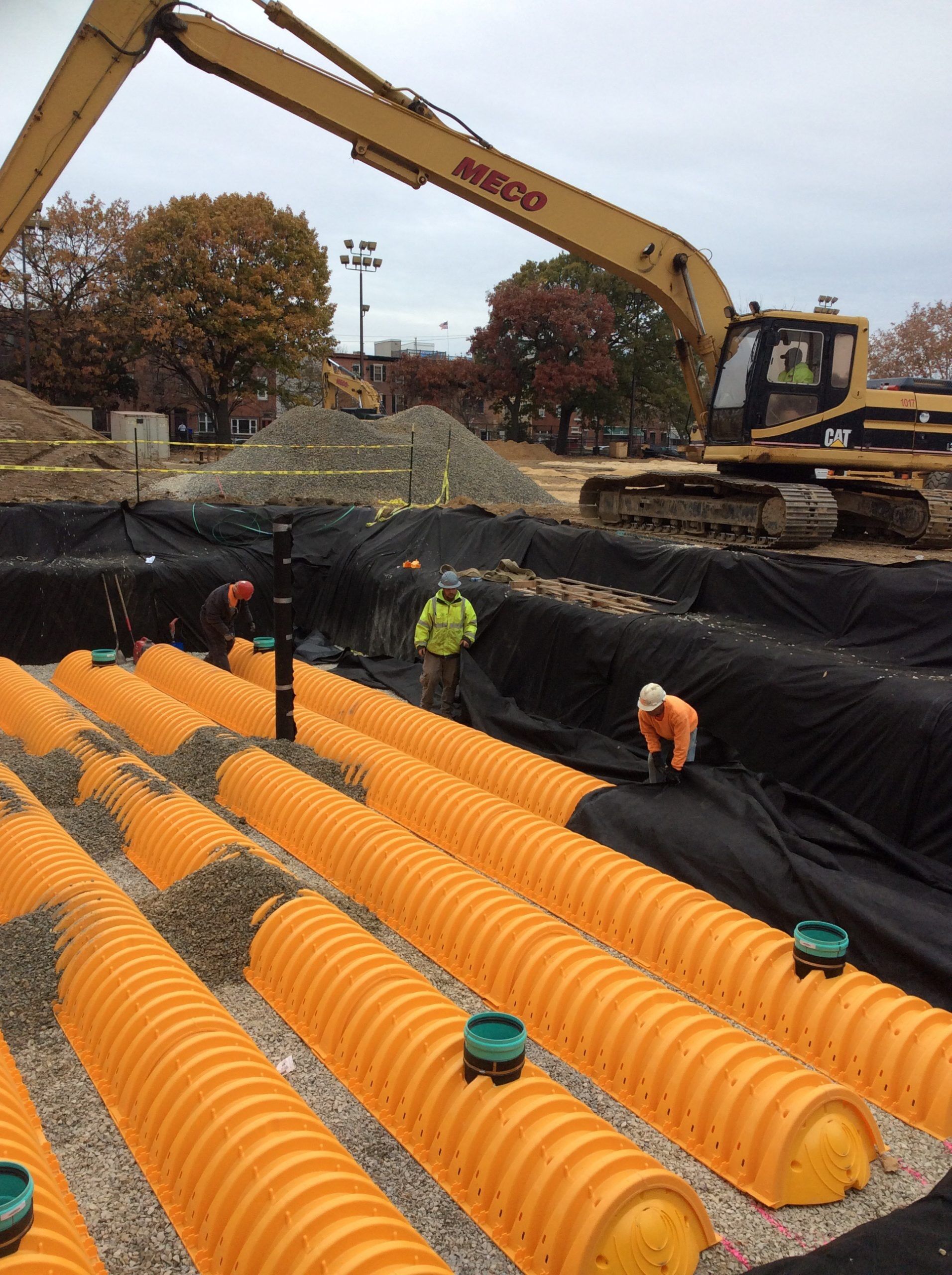 SWARTHMORE BIOLOGY, ENGINEERING, & PSYCHOLOGY PROJECT
(COMPLETED: OCTOBER, 2019)
SCOPE:
This project entailed the controlled demolition of antiquated buildings with the condition of preserving the buildings' stone and brick for future use.
The demolition made way for newly constructed buildings with site improvement renovations pertaining to the excavation necessary for the heating hot water install of the HHW piping. Meco also poured a new concrete pit for HHW entrance to the building, installed the new natural gas piping and installed manholes where indicated.
Approximate Contract Value $2,000,000.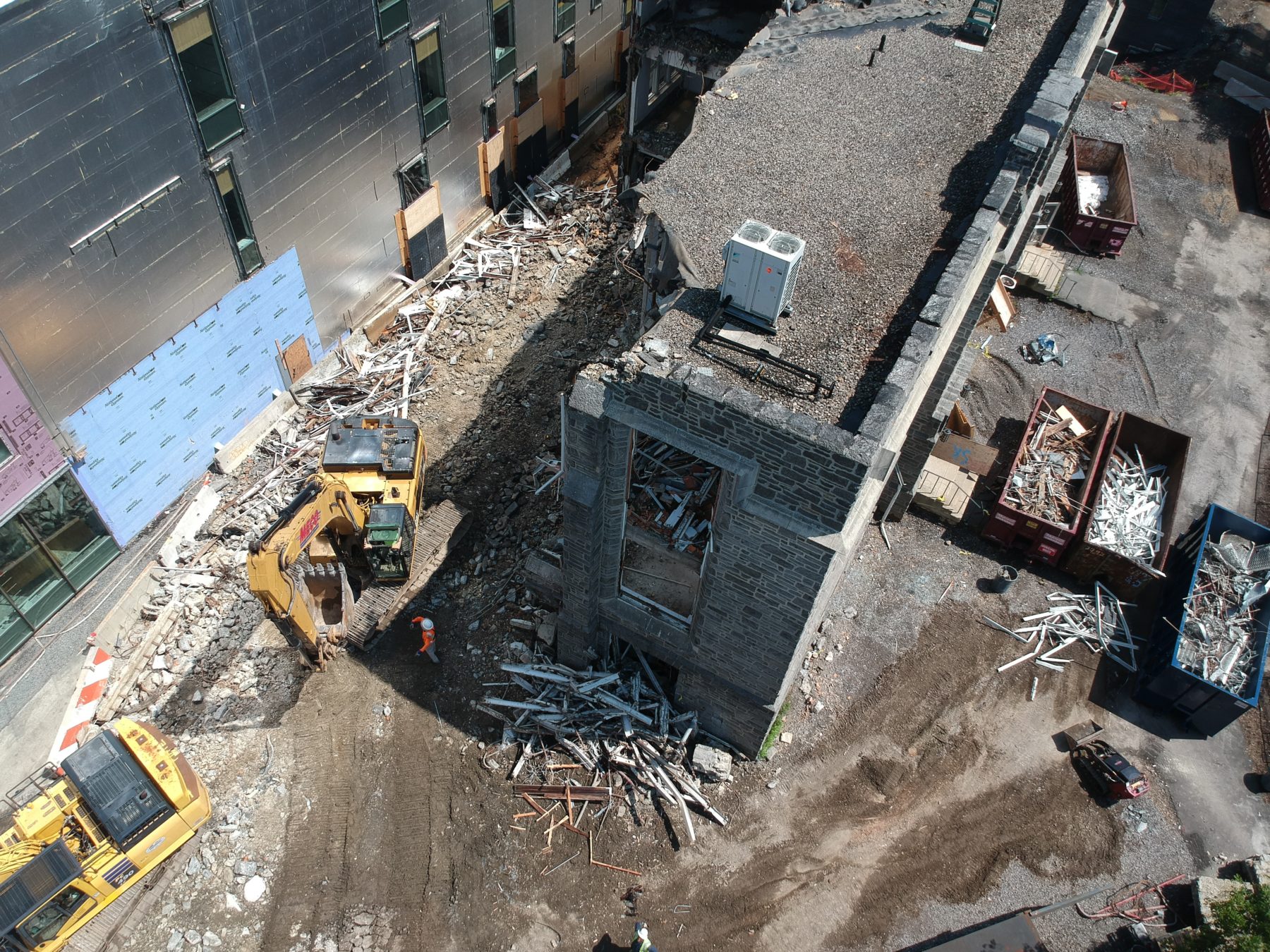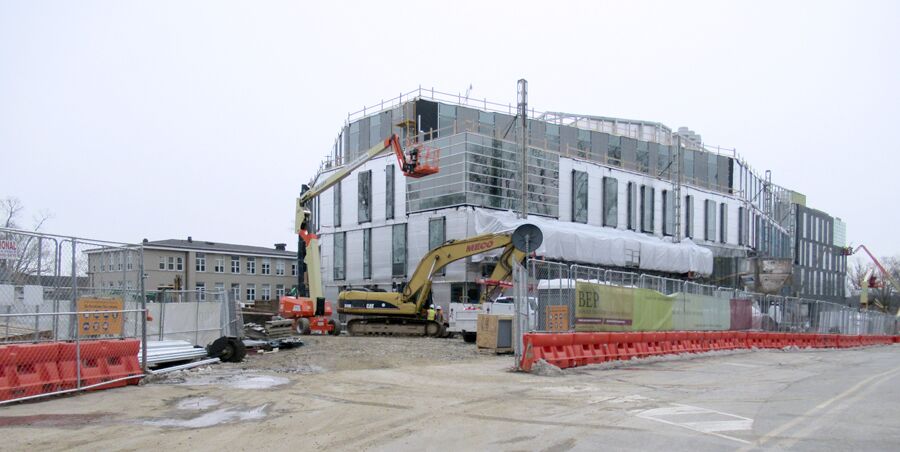 Hot water portion of the project
Drone footage of Swarthmore
Demolition Contractor in The Philly Area
Revitalization is a continual process, not only in our business and residential communities, but also in the public sector's infrastructure redevelopment as well. Meco Constructors, Inc. has a storied history of building and infrastructure demolition in order to make way for new construction.
In self-performing all aspects of the demolition process, Meco can complete the most complex projects safely and quickly. This is extremely important for any customer who awards Meco work because it promotes a smooth transition for new construction to proceed.
Premier Demolition Services in Philadelphia
When it comes to demolition in Philadelphia, Meco Constructors Inc. stands out as the leading full-service demolition contractor. We offer a comprehensive range of demolition services to cater to all your needs. With our Class A Demolition License, we have the legal authorization to demolish buildings of any size within the city limits of Philadelphia, regardless of the project's scale.
Building & Infrastructure Demolition Services
At Meco Constructors Inc., we take immense pride in being the best full-service demolition contractor, providing an extensive array of services to our clients. Our team comprises experienced and highly trained professionals who are dedicated to delivering the highest quality of service. From meticulous pre-construction planning to thorough post-demolition cleanup, our company offers comprehensive demolition services in Delaware and Philadelphia.
Our Philadelphia crews are OSHA Trained and possess over 40 years of experience in the demolition industry. Safety is our top priority at Meco Constructors Inc., and we take every precaution necessary to ensure that our work is executed in a safe and efficient manner. With our HAZWOPER Training and strict adherence to all relevant safety regulations and guidelines, you can have complete peace of mind knowing that your project is in capable hands.
We understand the significance of adhering to schedules, which is why we prioritize a schedule-driven approach and remain committed to completing your project on time and within budget. Our team is highly skilled and efficient, and we possess the necessary resources and expertise to tackle even the most complex and challenging demolition projects.
At Meco Constructors Inc., no project is too large or too small. Whether you require the demolition of a small residential building or the dismantling of a substantial commercial structure, we offer more experience, equipment, and expertise than other companies. So why delay? Contact us today to discover more about our comprehensive and complete demolition services in New Jersey and Philadelphia, PA. Our dedicated team is ready to assist you.