Demolition Contractor in Wilmington, Delaware
When it comes to comprehensive and safe deconstruction services in Delaware, Meco Constructors Inc. is the trusted choice. As a professional demolition contractor, we have the expertise and experience to handle any job, ensuring your project area is prepared for groundbreaking. With decades of experience delivering superior performance and results throughout Wilmington, DE, we are your go-to demolition experts.
Recent Projects Near Wilmington
SWARTHMORE BIOLOGY, ENGINEERING, & PSYCHOLOGY PROJECT
(COMPLETED: OCTOBER, 2019)
SCOPE:
This project entailed the controlled demolition of antiquated buildings with the condition of preserving the buildings' stone and brick for future use.
The demolition made way for newly constructed buildings with site improvement renovations pertaining to the excavation necessary for the heating hot water install of the HHW piping. Meco also poured a new concrete pit for HHW entrance to the building, installed the new natural gas piping and installed manholes where indicated.
Approximate Contract Value $2,000,000.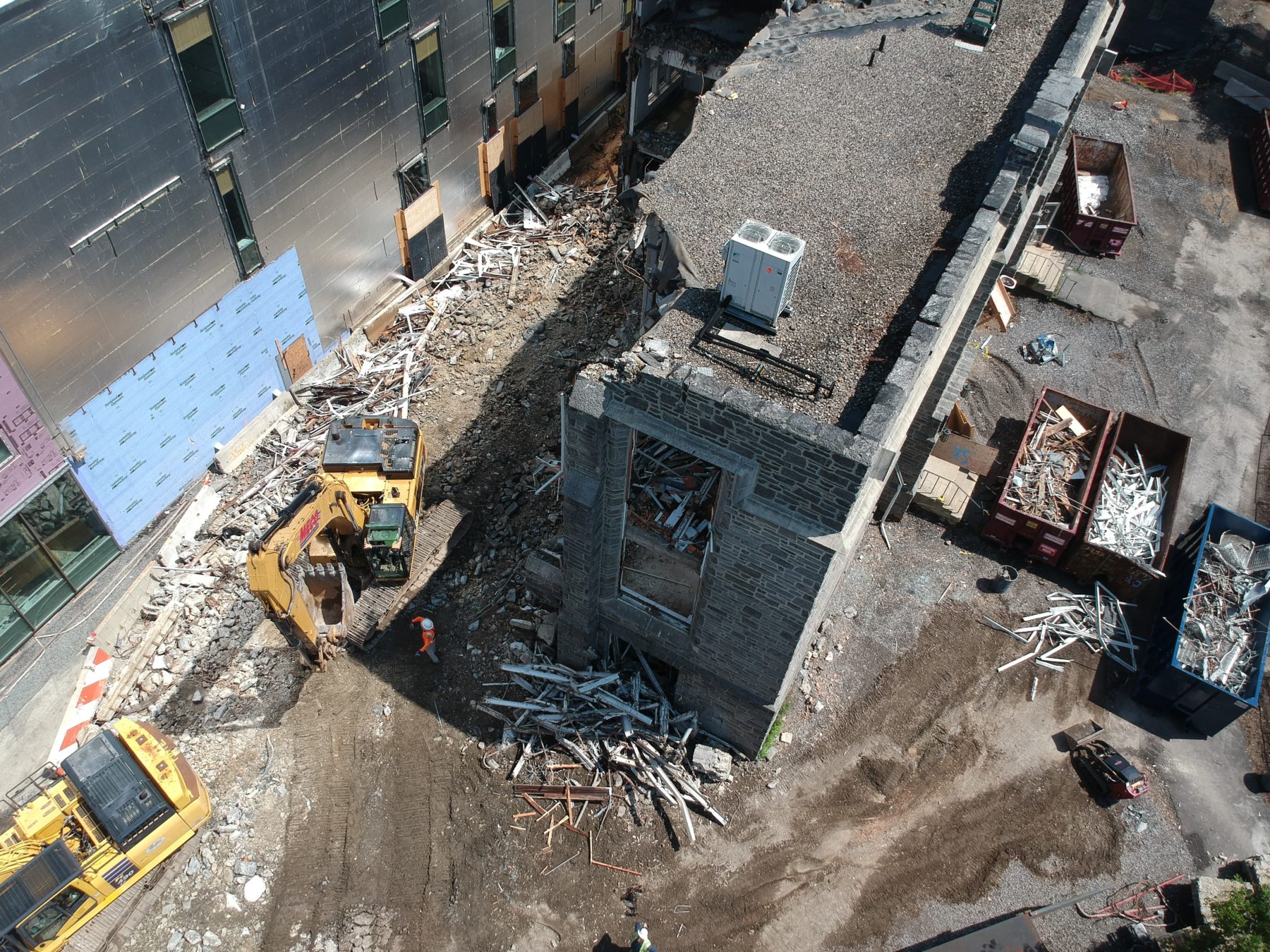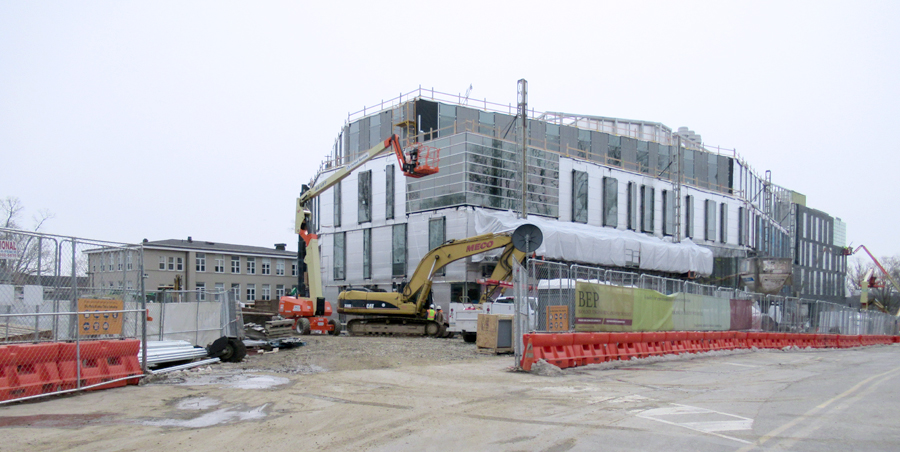 Hot water portion of the project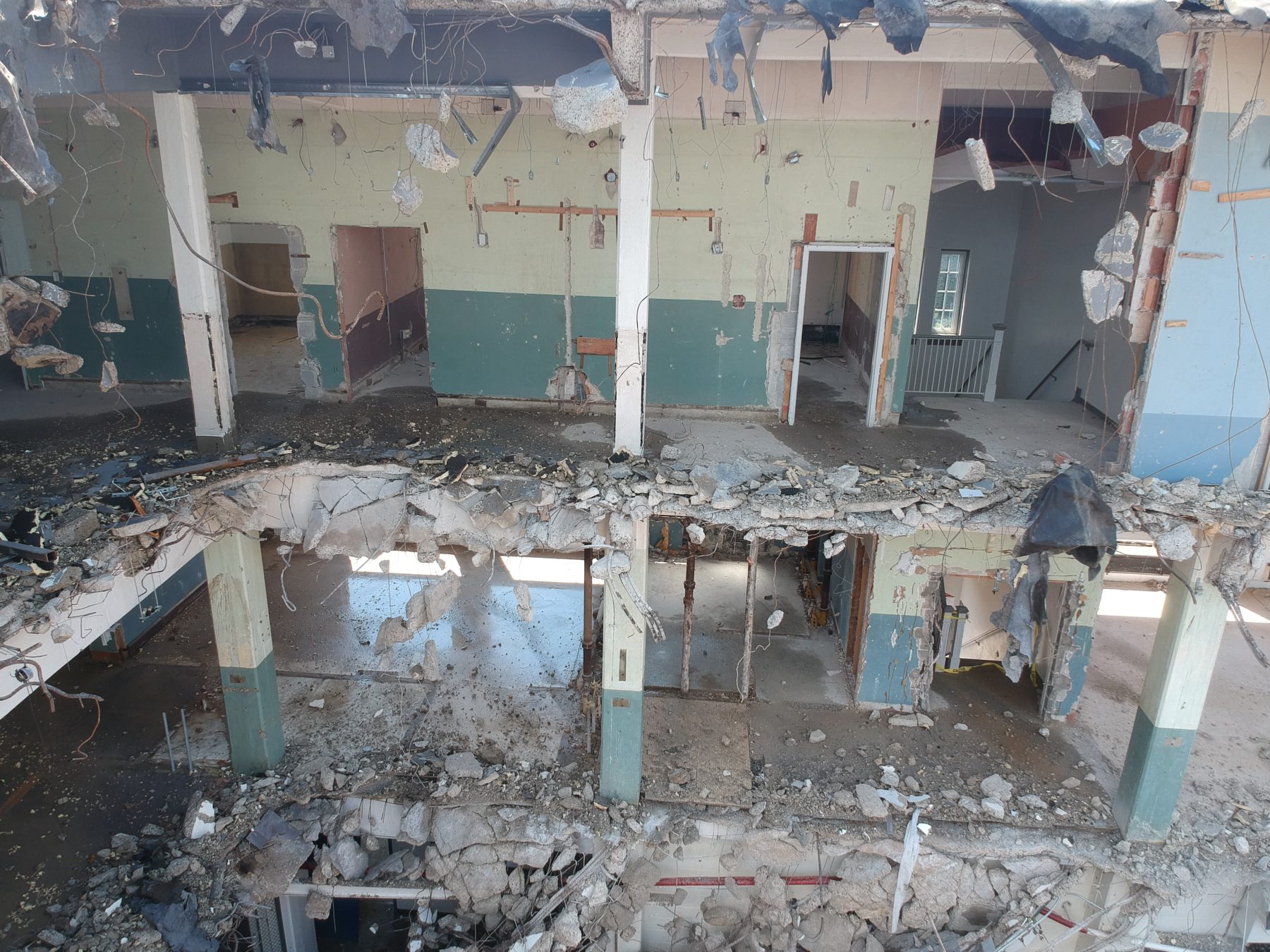 Drone footage of Swarthmore
Building & Infrastructure Demolition Services
Whether you require building or infrastructure demolition services in Wilmington, DE, we have you covered. Our contractors excel in both areas, taking charge of every aspect of the process to ensure a job well done, with safety as our top priority. With us, you won't have to worry about involving third parties on-site, as we self-perform all the work.
No need to search far and wide for a reliable demolition company, as Meco Constructors Inc. stands out as the best choice. We have an excellent track record of clearing the way for new construction in the residential, commercial, and public sectors. Whether it's clearing a paved lot or demolishing multiple buildings, it falls within our scope of expertise.
Whether you require demolition services in Philadelphia or Wilmington, DE, you can expect fantastic results when you choose Meco Constructors Inc. We handle projects of all sizes, making us the clear choice for demolition experts in Wilmington, DE. When it comes to your next project, rely on Meco Constructors Inc. for all your demolition needs.
One of the Premier Demolition Contractors Performing Jobs Throughout Delaware
As one of the premier demolition contractors serving Delaware, we also offer demolition services in New Jersey as well. Our expertise is vital for the continuous progress of revitalization, paving the way for new construction projects. When you're ready to embark on a new project, don't hesitate to reach out.
For the best demolition contractors in Wilmington, DE, turn to Meco Constructors Inc. With 50 years of industry experience, our company takes pride in our knowledgeable, trained, and vetted contractors who consistently complete every job correctly and safely. Whether it's small homes or commercial complexes, we have the capabilities to get the job done. Contact us today to learn more about our demolition services in the Wilmington area.